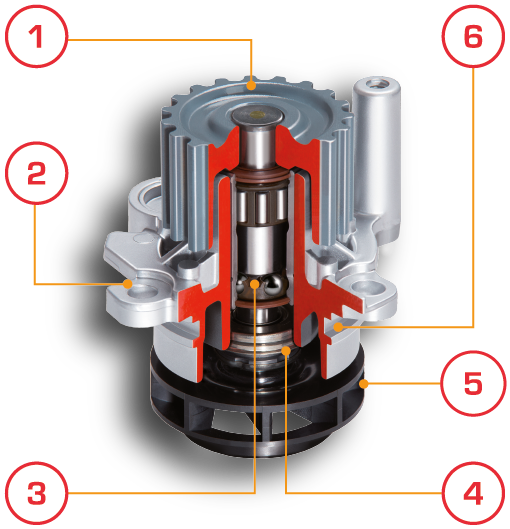 La pompa d'acqua è un elemento di vitale importanza per una buona operazione del vostro veicolo: è il cuore del sistema di refrigerazione del motore.
La pompa d'acqua è uno strumento di grande precisione, disegnato affinché funzioni in condizioni estreme di temperatura. Il guasto di uno dei suoi cinque elementi di base può produrre gravi problemi nel vostro motore.
Per conoscere la sua struttura è importante sapere come funziona il sistema di refrigerazione del vostro veicolo. Il liquido refrigerante entra nel corpo della pompa attraverso l'uscita del radiatore ed è la forza centrifuga prodotta dalla girante della pompa a spingere il liquido attraverso il circuito di refrigerazione. Il calore prodotto dal motore si dissipa dopo che il refrigerante è passato, il quale lo espelle al radiatore per la sua refrigerazione.
La maggior parte delle pompe sono dotate di guarnizioni per riassicurare il loro adeguato montaggio nel blocco motore.
La pompa d'acqua è composta da 6 elementi di base: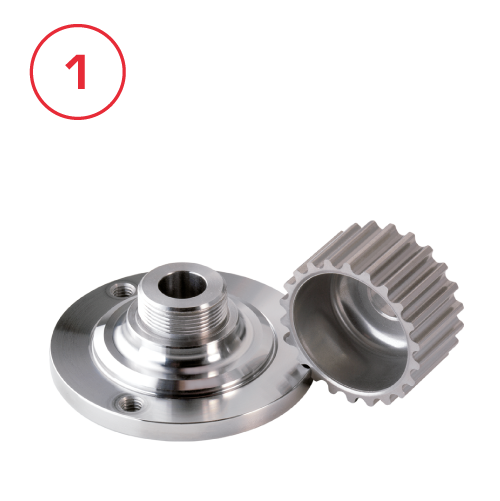 Mozzo o Puleggia
Sono responsabili di trasmettere il moto della cinghia di distribuzione all'asse del cuscinetto. Sono realizzati in acciaio sinterizzato, ferro e lamiera.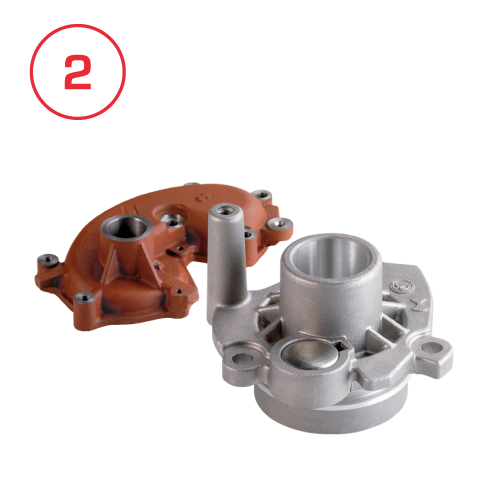 Carcassa
Realizzato in alluminio o in ghisa, è la struttura che sostiene gli altri elementi della pompa e si adatta all'ingresso del circuito di refrigerazione del motore.
Esistono zone della carcassa che devono essere perfettamente rifinite alla fine di garantire la adeguata regolazione e funzionamento della pompa.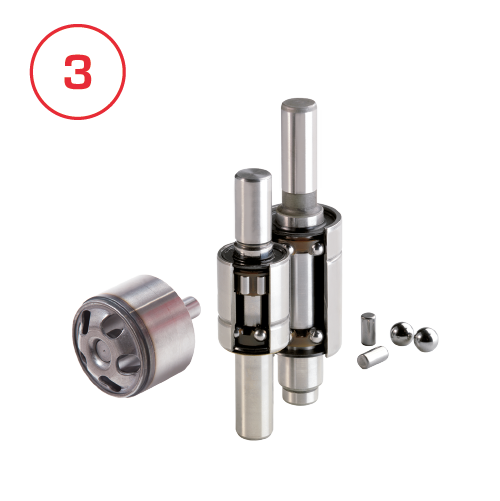 Cuscinetto
È l'elemento che si occupa della trasmissione del moto del mozzo/puleggia alla girante. La sua struttura determina la durata della pompa.
Esistono due tipi di cuscinetti: rullo-sfera e sfera-sfera. Il modello rullo-sfera garantisce una durata più lunga nelle applicazioni dove sono richiesti carichi maggiori.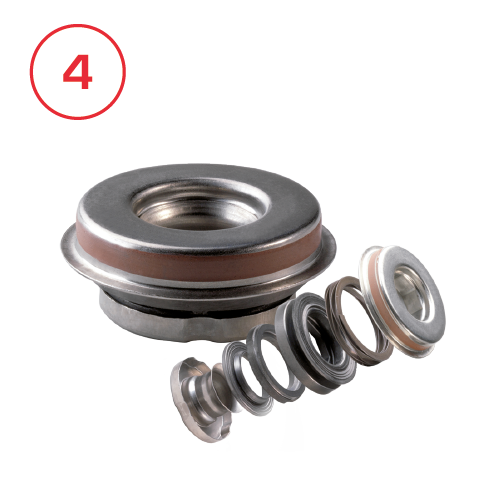 Tenuta
La sua funzione principale è quella di evitare il passaggio di liquido al cuscinetto garantendo così la tenuta della pompa.
La sua qualità, insieme ad un liquido refrigerante adeguato, sono la garanzia del buon funzionamento della nostra pompa acqua.
È formata da due diverse parti, una si fissa al corpo e l'altra gira insieme all'albero del cuscinetto.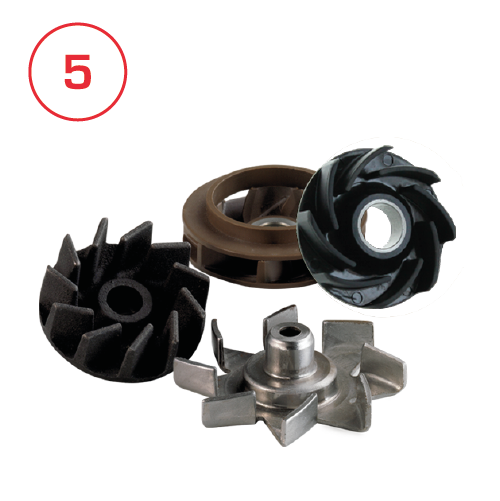 Girante
È l'elemento che si occupa di spingere il liquido refrigerante.
Il suo diametro, il numero e l'altezza delle sue alette, determinano la portata e la pressione del liquido nel circuito. Una diminuzione del flusso incide gravemente sulla durata del motore e sull'ambiente.
Le nostre giranti sono fabbricate in ottone, lamiera, resina (PPS-GF40) e ghisa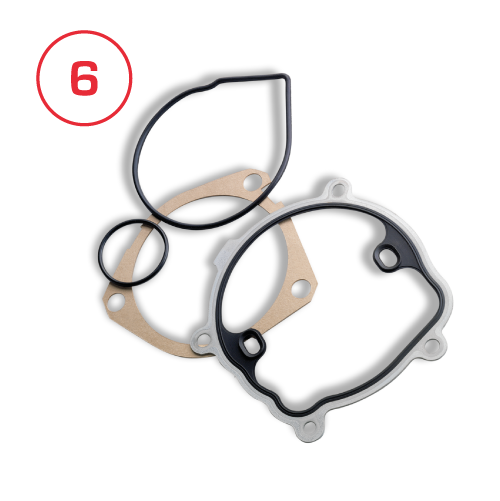 Guarnizione
È l'elemento che si occupa di garantire la tenuta tra la pompa e il blocco motore.
I materiali di cui è composta possono essere: gomma, carta e lamiera rivestita in gomma. Per le pompe sprovviste di guarnizione è necessario utilizzare un sigillante adeguato, nella giusta quantità.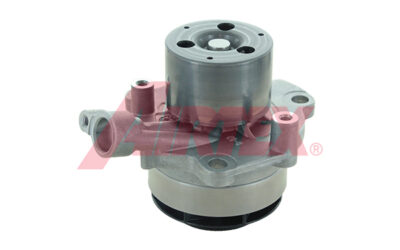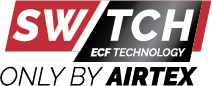 Through a electro-hydraulic system, the water pump varies the flow rate according to the requirements of the engine.
Nueva Bomba de agua 1978 con tecnología ECF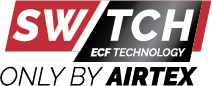 Mediante un sistema electro-hidráulico, se controla el flujo de caudal de la bomba de agua en función de los requerimientos del motor.

04L.121.011
04L.121.011E
04L.121.011EX
04L.121.011H
04L.121.011HX
04L.121.011L
04L.121.011LX
04L.121.011M
04L.121.011N
04L.121.011P
04L.121.011X